YEEEEEEEEEEEESSSSSSS
we made it for the third time ......
World Cup 2010, the Socceroos
are on the Football Train .........

No more waiting, no more 32 years..... Congratulation Socceroos
Congratulation Mr. Verbeeck
Congratulation FFA
Back on the World Football map.
Rasic - Hiddink - Verbeek – these are the names who made history, every one on his own way.
To step inside of Asia was one of the best things for Aussie Football.
Bring on the big opponents ......and ....
bring the World Cup 2018 to Australia ...

Former Socceroos boss Guus Hiddink has done some amazing things with Chelsea, making the FA Cup final and Champions League semi-final, not to mention continued success with Russia.
But something else has made Guus
happy - his former charges' progress towards another World Cup.
"Every now and then in England I text message with some players, recently I talked to (Mark) Viduka last week and Lucas Neill has a close contact with me and Timmy Cahill we will see very shortly.
I have contact also with the staff Down Under: John Boultbee, Phil Wolanski and more and Graham Arnold etc...
In February Krueger left snowy Hanover
for a trip to sunny Tokio. Of course also to see his beloved Socceroos in Yokohama.
Thousends of fans in the Green and Gold rocked Japan on a very friendly way.
The Aussie fans a fantastic ambassadors where ever they go.Souh Africa will be different than Germany, but
Africa is ready for the Green and Gold .... but not ready with the grounds ....


Kruger bought the official silk pennant for the qualifying match Korea vs Australia 1977 back.
The pennant left Australia years ago, was
a long time in the collection of an old national coach. On a very mystery way,
it's now in the Hanover museum.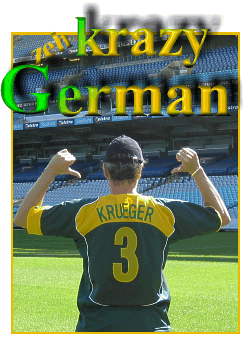 Andrew Fanton is the man who build with his team the Greenpoint stadium in Capetown.
After a break, trouble with the Union - his 2300 strong crew is working again.
"The guys want some more money of the big cake", Fanton said.
"Most of them need 3 hours for one way to get to work, than the have a 10 hours working day, and 3 hours back home, so whats wrong to get more bucks?"
FIFA and Blatter said NO.
So Mr. Fantons idea is, to work stronger and longer, so they finish the ground
earlier and save money. He will give this money to his workers. Great guy, and, Fanton is Australian …..
Constantly football players are stopped by fans for autographs and photos with a huge entourage watching his every move.
But for the last two weeks you could have been standing next to arguably Canberra's greatest, and richest, soccer export and had no idea who he was:
Josip Simunic
He can walk the streets of Canberra and not be recognised once.
''It doesn't worry me at all, the main reason I come back is because of family so it's no dramas at all.''
The defender is probably best known for receiving three yellow cards before being sent off against the Socceroos at the Germany World Cup in 2006.
Simunic, has thrown his support behind Ivan Slavich's Canberra A-League bid and said he wanted to see a team in the capital by 2011.
Zeh German is sure, no on wants to recognise Joe, for what ??????
Late, but …. In 2006, Josh Massoud of The Daily Telegraph won the Sports Journalist of the Year for a brilliant exclusive interview with 1974 Socceroos captain Peter Wilson.
HE found him after years and made the FIRST photo after year.
THIS IS LIAR, Mr. Wilson NEVER talked to Mr. Massoud, the photo was taken from far away, he NEVER asked for a permisson. .........
And, there was already a new photo of Wilson in Matthew Halls book The Away Game.
So nothing was new. We wrote to Mr. Massoud, The Daily T . and the Judge of the Award, no answer.
Is this jounalismus in Australia ??

This is the link .......
http://www.newsawards.com.au/06-winners