The Socceroos visited the race course of Bahrain. After the first game in Manama, the team got an invitation from Sheik Salman Bin Isa Al Khalifa. They saw some Porsche Super Cup action. Later they drove around the course with a V8-Supercar. They crew was impressed. Wrong is that since that day Arnie is living in a green and gold tent, riding on a camel to work and called his self Sheik Graham Al Arnold.
But True is, Franz Beckenbauer was in Australia, the last Stop of his 31 Nation tour. Not true is, that he changed again, like in 74, the pennants with Socceroo captain Peter Wilson.

We had some very interesting results in the group games, as we saw Trinidad & Tobago beat Sweden 20:0, Argentina - Ivory Coast 16:0, USA - Czech Republik 17:0, Togo - Switzerland 11:0, Germany vs. Costa Rica 19:0 and against Poland 27:0 In Australia's group, the games finished: Brazil - Croatia 9:0, Japan - Croatia 4:0, Schweden - England 0 : 19
Spanien - Ukraine 11 : 0
..AND......... Australia beat Croatia 7:0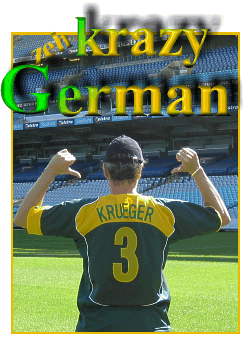 792 minutes without getting a goal. A record by Joey Didulica. He is a star in Austria. Now he made his own T-Shirt collection, it was sold out after a few hours. Another record.

The German spoke infront of 250 people in twodotstown Íhringen.
"I think Australia will have no chance to reach the second round at the World Cup", said Littbarski on a German TV show days ago. "They have a good team, but by far not as strong as they think. I wish them luck, but, I am afraid they going back to Australia without winning a game." No more to say, because the Krazy German switched the TV off.
It was time for reading a good book.

What they said : Zico (Japan), we have the first final against Australia. They are not chanceless like in 05 at the ConfedCup. We have to win, I say they are stronger than Croatia.

Hiddink : We can reach the second round. My team is stronger than Korea in 2002. Nothing will surprise me, also when we reach the final. This team is a Champions team. "Right Guus"
- But we are a lonely team, we don't have many fans, because of the far trip. But they are fantastic……"mmmhh Guus, wrong. You will see more true blue fans in Germany than you thought in your wildest dreams. And don't forget the fans from the 2dots town Oehringen.