This year, 2006, will be the World Cup year. That's the reason why zeh krazy German made his own column, with his own words, in his typical bloody English, wrong and full of grammatical mistakes. Think - laugh - cry about it, and have your say, but he hopes to see you all in old Germany.

Also at the Telstra Stadium for the Uruguay match was the 1974 coach
Rale Rasic, who sees current incumbent Guus Hiddink as the key to Australian success ahead of their second foray to Germany. "We don't speak about coaches very often," he said. "But this man deserves every credit because he's the one who has transformed this team from an ordinary unit into a very successful and extremely competent and well-organised unit."

Michelle Littbarski is still in the big brother house. As a present, she got a book with newspaper clipping about her father. With tears in her eyes, she said on TV that she wants to talk to him, and that she miss him badly. I want to tell him all about my life…….yes, and about your crocodile tears.

Christian Vieri, brother of Max, was voted as the worst player in the Seria A. He got three times more votes than the second. Voting was made by the radio station Catersport. Christian left Italy short after that. FIFA Magazine asked Krazy German to write a story about the two brothers, if they will play each other in the second round. Maybe we will have this game, but without any Vieri.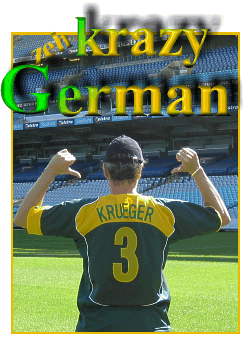 Frank Jurics contract finished at the end of the season. The goalkeeper from Hangover 96 is happy with his club, and they with him.
"Frank is important for the team, he never made trouble, is hard in training, also if he knows that he is just the second choice", said the manager, " and we want to keep him longer."
But Frank, now 32 years young, has the idea to get back to Australia. "I want to give something back to my country. I want to play in the A League," he said to the krazy German.
Wait Frank, after they tell you how much money you can earn down under, you will warm the bench for the next 10 years in my town.

Do ya know this ????
In 1911, at the game Leichhardt vs. HMS Powerful, the players used for the first time numbers on there shirts. In 1912, it became a law in NSW Soccer, that teams had to use back numbers.Important point, they have to us different numbers.
So it was made by the Aussies, not by the British Federation, as many thought.