Yeah, they are back, back to my country. That's the reason why zeh krazy German starts his own column, with his own words, in his typical bloody English, wrong and full of grammatical mistakes. Think - laugh - cry about it, and have your say.
He is happy and he was there to watch the game. It took 31 year and a world class coach to go over Rale Rasic's record. Australia went crazy, the Socceroos are back in town, Germany here we come……

Krueger scored. Few days before the game he was in Telstra Stadium for a photo session. He grabbed a ball, runs from the middle and scored from the penalty spot. He later told no one in what side, but it was the goal, the one Bresciano and Aloisi scored.
Forget the Voodoo stuff from 1969,
this time Krueger was the man who
made it............
The Australians are coming to Germany,
but Jessi Krncevic is the first. He is for a
training in Hamburg with St.Pauli. On his
first day he broke one finger, uhhps,
maybe he wears a ring ?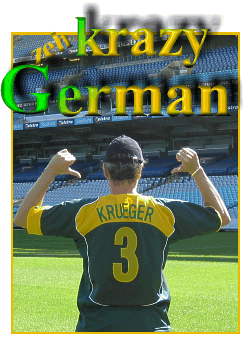 On Australian Soccer Weekly, Frank Farina said he was surprised by Guus tactics. Frank said, if he still was the coach, he had done some things different. We all know that Frank !!
At the Daily Telegraph he said, when he lost his job, his request was to keep the back room staff in place, because without them we probably wouldn't go to Germany. Frank, that was never a question. As Lowy said, we changed nothing, just on thing - The coach

Australia has there first World Cup Champion. Gary Moretti.
Training camps, flight arrangements, the brilliant luxury journey back, while the Urus travelled as backpackers, busses to hotels and camps. 100% perfect....
The Germans think they are perfect in organizing things.
But, zeh KrazyGerman pulls his cap of for Gary. Mate, you are a real champion.