This year, 2006, will be the World Cup year. That's the reason why zeh krazy German made his own column, with his own words, in his typical bloody English, wrong and full of grammatical mistakes. Think - laugh - cry about it, and have your say, but he hopes to see you all in old Germany.

The krazy German was the man who introduced Australia in the officials FIFA World Cup magazine. Every country is introduced by a personalitys from sport or showbiz. For example, Wladimir Klitschko for the Ukraine, pop singer Haddaway for T&T, Tony Woodcock for England, Ronnie Hellstroem for Sweden, Dragoslav Stepa- novic for Serbia Montenegro, Jorginho for Brazil, Willy Sagnol for France, Bum Kun Cha for S.Korea and so on. For the German Kicker Sport magazine, they used ex Leverkusen manager Rainer Calmund as the Austra- lian expert. He said: "Australia is a good team. They have a good keeper and some strong players. They can win against any team, but they can lose too." Great words from a big man. We can use this information on any team with no change.
Kevin Christopher (1962-2002) was a tireless supporter of the Socceroos.
And the maker of the brilliant fanzine Studs Up. After Australias loss to Uruguay in 2001 he joked he might never see Australia play at a World Cup in his lifetime.
Months later he dies. KC, mate, the Socceroos made it for you too.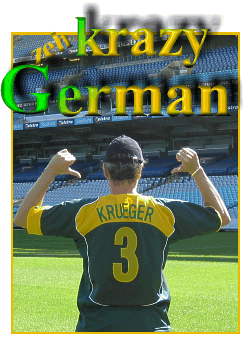 Ivan Skoko, father of Socceroo midfielder Josip, promised he would shave his character-defining moustache if his son's team qualified for the World Cup.
He had this moustache since 31 years. That's exactly when the Roos played there last World Cup in Germany. The krazy German called father Skoko and asked him if the beard is growing since than, and how many times he stepped on his moustache? No it was a normal one, he said.........Was ?
Yes, he shaved it, a promise is a promise.

In a German newspaper, Littbarski said Australia is a so called C Team.
Japan is a B Team and Brazil and Croatia A. Come on Litti, than Australia has an
A - coach and Sydney FC just an
D - Coach ????

Wolfgang Overath, German World class player from 1974, sends a fax to the Socceroo 74 reunion in November. He gave his best wishes to the old players and he was hoping that the Socceroos coming back to Germany in 2006.