HE IS BACK................take care...

ZehGerman is coming......................... In November, you will see Krueger running around in Aussieland.
He`s coming home, first time with his wife ........That means, NO FOOTBALL…..???
just sightseeing and shoe shopping.... (with Victoria Beckham:-)
The first Asian Cup was nothing for the Socceroos. Asia's top official Mr Bin Hammam has admitted he is disappointed by Australia's performance. "Australia were very disappointing," he said.
The Australians ditched Oceania for Asia last year for the promise of stiffer competition and a direct qualifying path to the World Cup, but have quickly discovered Asia is harder than they thought.

"All Australians are arrogant, especially the coach," said Fares Abdul-Latif, (Iraq)
"I promised the fans in Bangkok, that Australia will try to play sexy football at the Asian Cup". Brett Emerton (What the hell means that????)
"...they seemed to come down to earth at the asian cup. It never pays to believe the hype or bullshit . any how theres always next time.." Peter Wilson, World Cup Captain 1974
"We're all behind him, but we know we've let him down." Harry Kewell about the coach Arnold.
In Italy the people say, never have some one behind you........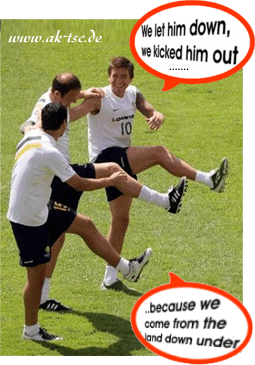 Or follow this one. Hanover 96 played a test vs. OSV (www.osv-hannover.de) a small part of Hangover.
96 won 6:0 against the team from league 7. In goal of Hanover :
Frank "benchmen" Juric, for one half.
On the same day the Socceroos played Argentina in Melbourne.
After every goal in that game, you can pay 15 Euro to the speaker in the stadium " the sponsor for the 1:0 was…....….".
The krazyGerman paid 15 Euros after the third goal. Zeh Message...
"The 3:0 is presented by the Australian Football fans to Mr.Juric, as a thank you not playing vs. Argentina but against OSV....."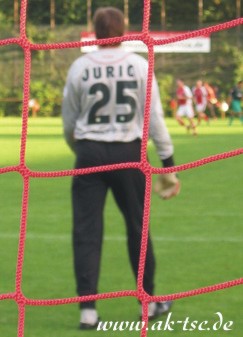 He was not amused................
"From Goalkeeping to Golf, and still a superstar. Ron Lord, Australia's goalkeeper legend, had a HOLE IN ONE few weeks ago. It was his third one. The first was in 1991, the second in 2000, and now this one in 2007. So, Ronny my friend, your fourth hole in one will be in 2012 when you are 82 years young.