WE ARE BACK............................
Lads, I am very very sorry to come back so late.
This column was just a World Cup anecdote, but many people ask me to go on with my story's. So we made the decision, to do that. Not monthly but from time to time. zeh krazy German starts his own column again, with his own words, in his typical bloody English, wrong and full of grammatical mistakes. Think - laugh - cry about it, and have your say.

Difficult to start, after 2006. The World Cup year is over. Long time ago, but the German is still frustrated, not about his team more about the bloody Referees. Watch the replay of Italy vs. Ghana, T&T vs. England and you will see, the Football World was against the exotics.

Australia was different. Against Japan, Schwarzer was fouled, and Nippon scored. The Ref said after the game, "I am sorry for that."

The German Markus Merk in the game vs. Brazil, SHOCKING. Against Croatia, what can we say. Not given penalty's, three yellows for one player, offside goals, and the winning goal in the last second……not given.

But than the Italy match. The World of Soccer was angry. Kaiser Beckenbauer said it was a scandal. Pele means the Ref was a blind man, he needs a dog to leave the field. But, too late. Luis Cantalejo (Spain) was also the man in the Uruguay game back in 2005. He brought us to the Cup and he kicked us out.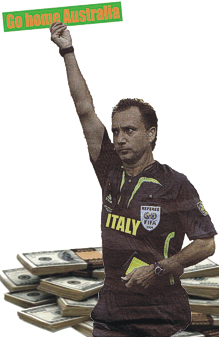 Senor El Bandito