Socceroo fan legend Donny Parkes was in 2Dots town. He was nearly everywhere and when he get lost in the Oehringer Outback, he stopped a police car and asked to bring him back to his Hotel. "They are so friendly here," he said," they paid me my Apfelsaft. I love Germany."

Another legend was in Kaiserslautern. Jim Scane, World Cup supporter of 1974, aged 92. His flight was sponsored by the Emirates airline. When the German said after the game good by to him he answered, "no…my time is close, this will be my last World Cup." We don't hope so mate.

The third legend was former Socceroo and Olympic games 1956 player Ted Smith, who walked around in the town. After zeh krazy German told the media that Teddy was a star in the old days, he had to made a lot of interviews for the German press. Later kids recognized him on the street. He was a celebrity again. Only channel 9 lost control. When they made a live interview via satellite to Australia they said, "we have a Socceroo here, his name is Ted Backer……."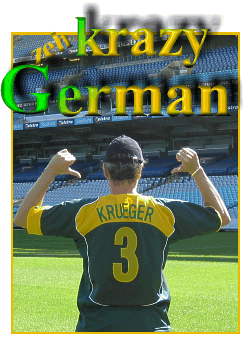 Cu soon.......zeh Krazy
Tony Vidmar, victim of a poor injury, was seen near the trainings facility. He looked sad. When he stepped inside of a train to Stuttgart, he drove away from his dream, the World Cup.
2Dots town paid a one week Hotel in town for the German and his wife.
From FFA he got a card to pass inside of the trainings ground and the hotel. So he left his wife outside. A minute later she came in too, with a card around her neck "access all areas."

Zeh German was near the Socceroos bench for the game versus Japan. No one was singing the national anthem louder than Johan Neeskens. He learned the text in a crash test.

In Munich, zeh German saw two girls with a paper on there backs, "trade sex for tickets." Yes, lets change. We need two tickets, one said, and you can have both of us - Yes I have 2 Tickets…zeh German answered. But, he don't want to miss the game, so he cancelled. Result : Sex is wonderful, but only second behind football.

See ya in Berlin.........