2008 is over, and now ???!!
THE WORLD CUP .............

Everything is possible, but Krueger said to his friends in Hangover that the Socceroos will go to the World Cup 2010 easily. IF NOT, Kruger will drive with a bicycle from Melbourne to Sydney in a Roos shirt. Was it the German beer ?? NO, he IS THE crazy German ............
We found in a German shop a copy of the Australian tracksuit of the late Jimmy Scan, Australias World Cup number one fan, who died in 2008.
But its with the german team names on.
West Deutschland won the World Cup back in 74, but the real Jacket was made by an Australian.
adidas made the copy.........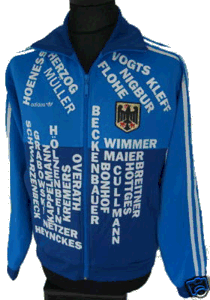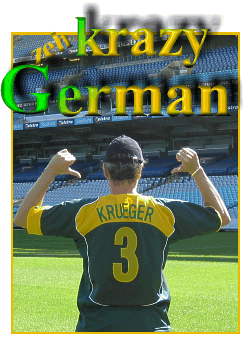 Australian born Pece Cvetanovski moves to German Bundesliga side Borussia Mönchengladbach, with a great wish to affirm himself in Europe and play for Macedonia one day.
Born in Canberra he played for the young Socceroos. Gladbach will be closer to Macedonia and can easily prove himself in front of the Macedonian coaches. His parents are in Skopje and completing his documents, so Cvetanovski can soon be called up for the Macedonian national team. WE SAY GOOD BY ........

The DVD SoccerRevelution is a good seller, for just 5 Euros. As we told you last time, the Socceroos in 2Dots Town.
You can get your DVD here : SoccerRevolution


Stupid sentences of the year 2008 ……
"Okay, on the result – Yeah, it's a very disappointing result, but it makes the table interesting";
Harry Kewell after Australia's loss vs. Iraq in the first World Cup Qualy round. NOW we loose because to make tables interesting ???

More stupid, Frank Farina said about the Cup: "It shows this Pre-Season Cup is killing clubs. Last year in the same game against the same opponents we had two red cards and four yellows. This year we've lost our captain."

IT'S THE CUP WHY HIS PLAYERS GOT THESE CARDS ?????
Mr. Moore got the red. Farina, "It wasn't a nice looking tackle but I didn't believe it was a straight red."

We all know Moore for his "not nice looking tackles". Craig never had a look at foot or legs from opponents, that's WHY he got red.

Very funny what the coach said. So if FFA close the cup one day, they can send the coach to a school where he can learn how to speak intelligence sentences.

But Franks words are not the most stupidest, the came from George W.Bush. He said, "Traditionally, most of Australia's imports come from overseas."

Now some sad news .......