Krueger in 2Dots Town ...but he was not the only one.........

ZehGerman went back to Oehringen.
In the town hall he got a special price for his help to get the town ready for the World Cup.
His ideas to make the place a good
place for the Australian fans.
The mayor gave all he had on good words, but the biggest surprise was............... The Boss, Rale Rasic came in to speak in front of the people.

3 days after the Socceroos played China in Kunming, Krueger got a very rare match programme. Dave M. came directly after the game to Hangover to give it to the Kruegs Museum.

Frank Juric is gone. After 11 years in Germany, he played just
12 Bundesliga matches. That's not much. He got
flowers and a watch when he left.
Another Aussie tried to get to Hangover, Nikita Rukavytsya. He failed. A good player, but not what we are looking for, said the coach.

Matthew Jurman tried, with no success, to get to Werder Bremen and Hansa Rostock.
Arminia Hangover, another home town club from Krueger, had Andrew Barisic. But he got no work permit because he played in Croatia.
Over Scharmbek he went back to the Knights, that means more time for surfing and facebook.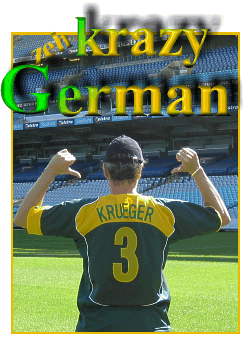 But FFC Viktoria 91 from the Branden- burg Liga signed 2 Aussies. Adrian Eccles and Jackson Haussler from Joeys United FC, NNSW.

Jorge Daniel Fossati, Socceroos means no luck for him. He tried to get 2 times to the World Cup. In 2006 with Uruguay, in 2008 with Qatar, no chance.

The DVD SoccerRevelution is on the market. The guys Bjoern Arne Bruns, Sebastian Klimmek and Arne Siekmann filmed everything around 2 Dots Town during the World Cup. In the Hotel, stadiums and the training camps. The result is a must to see, a 35 minutes movie. The guys made it by there own, because maFIFA wanted 9.200 Euro for each minute from the games. You can get your DVD here : SoccerRevolution


Rale Rasic came to 2Dots Town. He is touring Germany with the Joeys Football Club, a young club situated in Northern New South Wales. The Boss is a guest coach. It was a big media story here, Australia's World Cup coach from 1974, back in Germany after 34 years.

The Joeys team won a tournament vs. some teams from 2Dots Town.
Rale was on the bench. He teaches also the German young guy, but it was not possible for him to kick a Ball.
His Achilles tendon crashed when Rale tried to kick a Ball.
Coach us please but don't try to kick a Ball……………..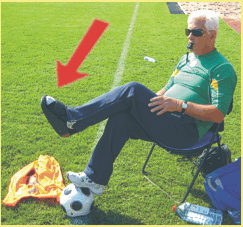 The Joeys are still on Germany tour for the whole June. There is the talking that TSG Oehringen is going Down Under in 2009 for a Australian tour.
We are looking for some sponsors ...

Now some very sad news .......