HE WAS BACK......................
and he`s gone again.........

ZehGerman made holidays in "Straia",
no football this time, he thought……

85,000 football fanatics watched
Sydney Fc beating Beckys Lost Angels..........
What a night and many goals

When Krueger was down Under, Australia was looking for a World Class Coach. Now we have Mr. Veerbeck, a
very good, experienced coach who will stay down under, not in Holland or
Russia as long as he coached the Roos.

WE SAY: Thanks to coach a team that made the World Cup twice in 34 years
and ranking around place 50.

Welcome to Australia Pim,
good luck for you and your team and ..... ...........don't listen to ex-middle class players on TV
1974 World Cup Skipper
Peter Wilson gave the German a call.
" Lets meet", .... yes, sure.
Zeh German hoped to get some old
Soccer stuff, but Willie came with a
bunch of flowers for Krueger's wife and
paid the wine.
Krueger got nothing, just a lemon sqash….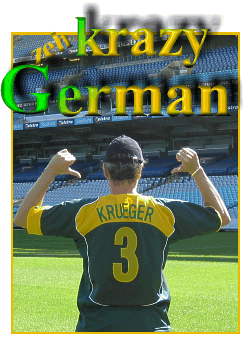 On Football Expert TV, Krueger heard "We have to play more Asian teams."
Just a few years ago, we mostly played in Asia, also when there was the
war. The experts said then, we have to play more the South American !!??.
Next : The Olyroos will have no chance. NOW they went to China, but…without a chance – the Experts said. We have to foster our teams, not the experts.

Trevor Birch, a man who made a lot of things possible, died last November.
He was the Boss of South Coast Utd, later Safeway Utd. Thanks a lot for that what he had done for the game………

Tony Vidmar, Ted Smith, Peter Wilson, true blue Aussies who have never been
at the Uluru.
Now the German is looking for 11 players who climbed the rock in the past, to nominate his ULURoos.
Goalkeeper legend Ron Lord is the first. Please send us more

Pim Veerbeck ?? Lucas Neill said: "I had to google the guy to find out who he was."
(Neill is the man who is NOT playing for Barcelona).