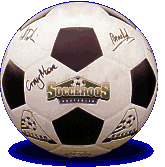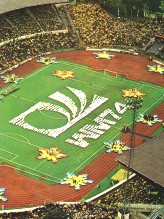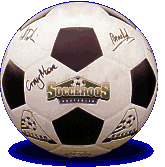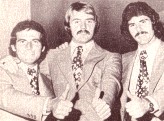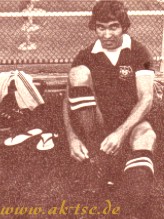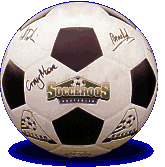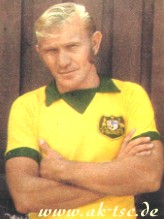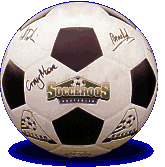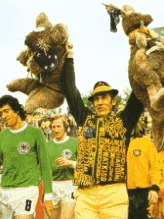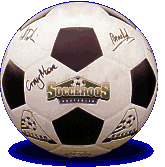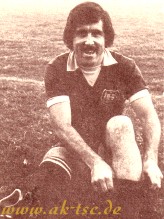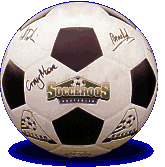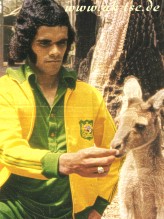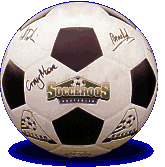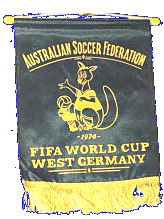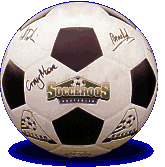 mail me.......

Australia to tackle both Germanies and Chile in the World Cup
Sunday, 7 January 1974.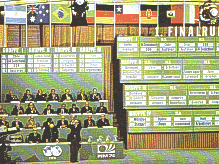 Australia, which won a marathon battle to reach the final 16 of the World Soccer Cup, received one of the toughest draws for the tournament starting in June.
The Socceroos will line up against favourites West Germany as well as East Germany and Chile in Group One for the preliminary round-robin tournament in Hamburg and Berlin.
Australian Coach Rale Rasic was not optimistic about his team's chances of reaching the second round. "For us taking part is fantastic, but we shall have reckon with tough opponents", he said. Australian Soccer Federation President Sir Arthur George said, "One Germany would have been bad enough. But two - I just can't believe it!"

The preparation for the World Cup started in February 1974, when the Socceroos played two games against Hungarian club side, Ferencvaros Budapest. Australia lost in Adelaide 1:2 and had a nil-nil draw in Sydney.

In March the team only managed a nil-nil draw against an Auckland Selection in Sydney, and many people saw dark clouds ahead for the team. But that changed in April, when the Socceroos shocked the football world against two-times World Champion Uruguay. But the team lost one of its best players. Read more.....
| | | |
| --- | --- | --- |
| Interviews | Australia - Uruguay | On the way to Germany |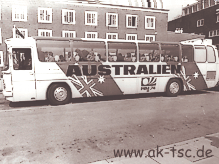 The Australian team arrived at the Ochsenzoll training camp in the Hamburg suburb of Norderstedt on 10 June. The camp is the training base of the famous Bundesliga club HSV.

The camp is guarded by the police and the military and entry is restricted. The media have access, but just once per day. If the players want to leave, they can, but they must say where they are going.

World Cup 1974 Fanfare (wav-159 kb)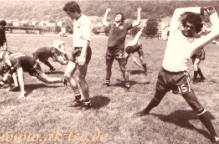 Coach Rale Rasic said he will name his starting eleven a day before the first game and no earlier.
A German tourist company spokesperson reported that there were nearly 2,000 fans from Australia to support the team.
The Socceroos watched the opening ceremony (for Australia the band played Waltzing Matilda) and the opening game between West Germany and Chile on TV.
Chilean captain Francisco Valdes said "If (Australia) reaches the next round, well - I'll give up football and start tending chickens."

When Rasic announced the starting eleven he said that everyone was fit and no-one was injured.
Australia's first World Cup game will take place on Friday 14 June at 7:30pm against East Germany.

World Cup game, Hamburg, EAST GERMANY - AUSTRALIA
The German media rated Jack Reilly, Peter Wilson, Manfred Schaefer, Jimmy Rooney, and Adrian Alston as the best Australian players. West Germany's assistant coach Jupp Derwall said, that the Socceroos' conditioning is very strong. Derwall was also impressed by Ray Richards' 40-metre throw-ins. "They are very dangerous," he said.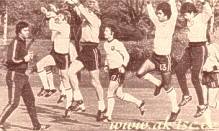 George Buschner, the East German coach said: "I was impressed with the Australians. They had excellent organisation in defence, they showed above average flair in midfield and they had occasional attacks which were
dangerous. They are very hard, but fair, and they will not drown in the remaining matches."

The management of Hertha Berlin and Hamburger SV said that they are interested to sign Alston. Also a club from Switzerland called Alston and asked for permission to speak to him. Hamburg later said that they also
have Branko Buljevic in their sights. In talks with officials from Alston's club Safeway United, Hamburg had discovered the price they were asking for Alston is too high.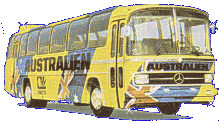 The day after the game against East Germany was a Saturday and the team had a day off. Some members of the team wanted to travel to the East Sea to watch a sailing regatta, but then the team decided not to go. A few
stayed in the camp and played table tennis or billiards, and some others went to the City of Hamburg for shopping.

On Sunday there was an early training session, in the afternoon the team went to a barbecue they'd been invited to attend. The second World Cup game for Australia will be on Tuesday 18 June 4:00pm against West Germany.
In their high security training camp at Ochsenzoll, the Australians set about preparing for their most difficult match, under the watchful eyes of their machine-gun armed police guards.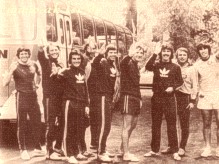 Everyone is looking forward to the big clash. "We have nothing to lose," said Rasic. Johnny Warren is out because of injury and will be replaced by Ernie Campbell.

"We have nothing to fear from Australia...apart from Adrian Alston Legendary German coach Helmut Schoen, before West Germany's encounter with Australia.

Schaefer will play against Gerd Mueller. "I have been preparing for weeks for that 90 minutes duel. Should Mueller remain goalless in that game against us, it will be the greates achievment of my soccer career," said Schaefer.

On the game day, the Socceroos had lunch at 1:00pm. They ate steaks with garden salad, orange juice and sparkling mineral water. The Socceroos left the training camp Ochsenzoll with the team bus at 2:30pm on the way to the Volkspark Stadium.

World Cup game, Hamburg, WEST GERMANY - AUSTRALIA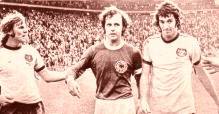 West German Captain Franz Beckenbauer was so angry after the game, he didn't want to swap his shirt with Wilson. At the media conference after the game, a reporter asked Wilson about the situation. Wilson replied "If Mr Beckenbauer wants to keep his shirt, then he can do so."
But Beckenbauer had no dispute with Wilson. Socceroo striker Adrian Alston had gone into the German dressing room before the match had begun and asked Beckenbauer if he could get his shirt after the game.

Now, the Socceroos had to leave Hamburg for their last game. Everyone liked the Australians. "They where always friendly," said the German chief cook Ernst Kreuz. "They were happy with the food, mostly fruits, salad and steaks. We are sad that they leave," he said. The press praise the Aussies for being such good ambassadors for their country - even to the extent of washing their own dishes at the Ochsenzoll headquarters.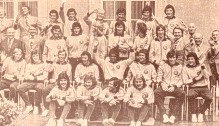 Now the Socceroos pack their bags and head off. On Wednesday, the Australian crew left Hamburg by plane for Berlin the venue of their next and last game.
Before the match, Alston met representatives from Hertha Berlin. They proposed to make a contract with him for coming to the Bundesliga and Alston said, "I think I will go to Berlin, because they want to pay more than Hamburg."

The third World Cup game for Australia will be on Saturday 22 June 4:00pm against Chile.

World Cup game, Berlin, CHILE - AUSTRALIA
After the game, Sir Arthur George paid the Socceroos a special tribute:
"You have put Australia on the map for 700 million TV viewers much more effectively than all the diplomatic people who go overseas and spent hundreds of thousands dollars."
| | | | | | | | |
| --- | --- | --- | --- | --- | --- | --- | --- |
| | Country | Games | Won | Draw | Lost | Points | Goals |
| | East Germany | 3 | 2 | 1 | 0 | 5:1 | 4:1 |
| | West Germany | 3 | 2 | 0 | 1 | 4:2 | 4:1 |
| | Chile | 3 | 0 | 2 | 1 | 2:4 | 1:2 |
| | Australia | 3 | 0 | 1 | 2 | 1:5 | 0:5 |
For the Socceroos, the World Cup adventure is over. Coach Rasic hugs each player. "For us, it was a never forgettable journey, and it is not easy to leave Germany," he said at the airport of Frankfurt, where they had arrived on their long way back to Australia via Berlin.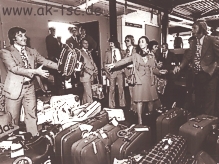 Captain Wilson, keeper Reilly, and "long thrower" Richards, who got a one game suspension for his red card, had their last German Beers at the airport bar.
Reilly made the decision not to leave Australia, even though some English and Spanish clubs had shown interest. "I want to give something back to my home country Australia," he said. Wilson, who also got some invitations from English clubs, likewise did not want to leave Australia. "I can earn only a little money in Australia with Soccer. But all things considered I have a good life there, so why I should I have to give it up?" he answered.
Alston had talks at the airport with representatives of Eintracht Frankfurt, and they wanted to pay more money than Berlin. Alston said that he would like to go to Frankfurt, because he didn't like the situation of the City of Berlin situated as it is in the middle of East Germany. He is very interested in the Eintracht proposal, but first he wanted to go back to Australia.

Coach Rasic announced he has offers from clubs in Austria, Switzerland, and France but that he wanted to renew his contract with the Australian Soccer Federation.
Atti Abonyi left the team in Berlin and he went with his father to his country of birth, Hungary. A few others want to stay until the Final, but the soccer season in Australia was underway and the clubs ordered their players back. They were a little bit sad to leave, but all in all it was a very happy Australian crew which left Germany by plane.
The German press said, thank you Australia, it was fantastic to have you here, and the Socceroos answered ....................."Aufwiedersehen Deutschland................."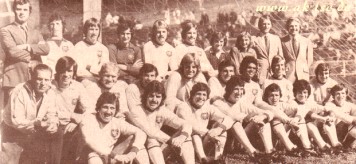 Back home........
...............1500 Soccer fans gave the Australian a hearty welcome at the Sydney airport.
Team manager John Barcley said to the cheering crowd, that Australia will have no problems to go to further World Cups. Captain Wilson said, "We showed the world that we can play soccer, and they gave us respect. Never forget, every one of us has to work in a normal job."
Alston said that he had to stay two more years with his local club Safeway United, and he cancelled all the promises he made with German clubs.

There was a bright star over Soccer Australia and no on had an idea that the big, dark clouds coming over that game in the near future. It was the first time, and the only time up to 2006 that the World Cup tournament saw our beloved Socceroos. It is our obligation to remind ourselves again and again about this time. It is also our obligation never to forget the heroes of 1974