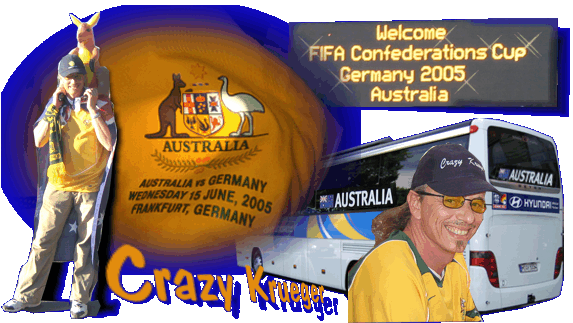 The Socceroos are back in town
After a long break of 31 years, the Socceroos came back to Germany for the Confederations Cup. For me the return started weeks earlier, because a lot of newspapers asked me for interviews. When I completed the tally at the end, 16 different newspapers had asked.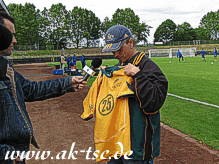 The most popular German TV station, ARD, made a movie about me. They filmed me at work and home, all-in-all for six hours. The result was a three minute film which was shown on TV shortly before the Australia v Germany game, and seen by 11 million people.
On Saturday before the tournament started, I drove to Frankfurt, as I had been invited to visit the Socceroos in their Hotel. What a big hello! I was given an Australia access card, for an entry to all areas, a team shirt, and some other souvenirs. SBS filmed me and I also gave some interviews with other stations.

One funny incident was when SBS's Simon Hill asked me where I bought my Australian track suit. "You can't buy them", was my answer, "It was a present."
"Okay", he said, "But you are not Andre Krueger?"
"Yes I am", I replied, and I was in. All cameras turned around for some interviews. Again I was a media star!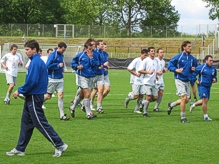 I watched a training session with the team. All the reporters and camera teams came around me and were asking again and again the same questions. Some players from the pitch are saying "Hello, WE are here too!"
After the training session, I drove back to Hanover.

On Monday, my friends Matt and Anita arrived in town. We spent some time sight-seeing and eating good food. When we visited the beautiful Town Hall - I go there with every guest - Rale Rasic, ex-Socceroo coach from 1974, called me. He told me he will watch the Germany game on TV and was hoping for a win. He hoped I would have a lot of fun. I know Australia is back here, but no there is no Rale, no Wilson, no Richards, and no Alston. These days will comprise a new chapter in Australia's football history. I started to get nervous and looked forward to the coming games.

In the evening, German media-star Reinhold Beckmann called me. He will be the commentator for the game against Germany and he asked me for some inside tips and information about the Australia team. We spoke for an hour, and so he was well prepared for match-day.
On Wednesday morning, we all drove to Frankfurt and we met our friend Mark Bowman.
The game was close, Australia v Germany, the big revenge for 1974, when Rasic's Socceroos played them.

German football's best-known figure, former captain and coach Franz Beckenbauer, had some kind words to say about the Socceroos when he visited the team hotel on the eve of the game.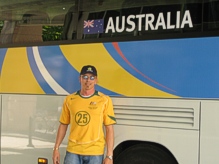 "I have a lot of fond memories of the Australian team," he said. "Of course, I remember the World Cup here in 1974 [Beckenbauer captained the champion West German team that beat Australia 3-0 in a Group match], and it would be nice if the Australian team could come back here in 2006."
"Fingers crossed you will make it."
"In tomorrow's game, Germany is the favourite. They have home advantage, but it would be a good idea for Germany not to underestimate Australia. It's a different Australia now, most of the players in the squad are playing in the best leagues in the world.
They are now much better prepared than they were in 1974." Beckenbauer added that he felt the German defence was inexperienced, saying: "They are always likely to make mistakes because of their lack of experience and if the Australian team is clever enough, they can capitalise." We will see.

Then it was time for the big game : Australia v Germany
Of course I was dressed in green and gold, I had a flag and a scarf and my big blow-up Kangaroo called Wilson with me. My wife went in a German shirt. We have had many a big discussion about this, but I can't change her mind!

The media was with us for quite a time, and taped me before we went inside of the ground.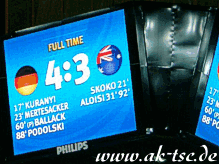 Loud and proud I sang the Australian national anthem together with Mark, and, yes, big tears were flowing down my face. It was a moment I can't describe. The people nearby applauded us, they thought I am an Australian. I had the feeling that I always was an Aussie.

The game was a thriller, and very open. It was not a fair penalty against us, and also it was not fair that the foul on Popovic did not result in a red-card. In the end we lost 3:4, sad but not bad, so we hoped for better fortune in the other games.

After some drinks with some Australian fans in Frankfurt, we drove back to Hanover the next day with Mark.

In the late evening, Mark, my friend Dieter from South Africa, and I watched the Japan v Mexico game at the Hanover stadium. Some people recognised me from TV and made some photos of the "Crazy Krueger".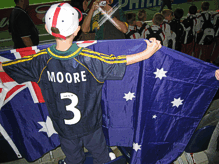 On the Friday I went to work - yes I work sometimes. But I finished early and Mark and I drove to Nuremberg that same day. It's a bloody long way.
After we checked in our hotel, we went to the players' hotel to met Matt and some of the players again. That night we had some special Greek food in town.
On Saturday we did some sight-seeing together with some Australian supporters. Then we put on our fan uniforms and went to the ground. We spent time in a Beer Garden with people from the Green and Gold Army and other friends.

A lot of people took photos of me, and helped carry my Kangaroo on their shoulders.

Australia v Argentina - another big clash, on paper. But Australia played badly. The result 2:4 sounds okay in a game against a football giant, but our defence was a disaster.
The game also had some unfair decisions against Australia.
The penalty on Viduka at 2-0 - you won't see a more clear-cut penalty in your life ? but it wasn't given. And then they go down the ground and make it 3-0. It was the difference between being 2-1 down after having scored, and being 3-0 down.

But the loss meant that the Socceroos were out of the tournament after just two matches. We scored five goals in those two games!!!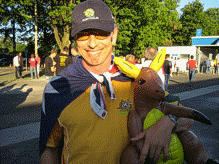 The Socceroos were well supported by fans from 1860 Munich (they and we missed Agostino), and Dynamo Dresden. But it didn't help.
So we went back to town for a few beers. Very early on Sunday, Mark left for Copenhagen, I drove back later to Hanover, a little bit depressed.
That evening, I went with Sabine and Dieter to our Hanover football ground to watch Brazil lose against Mexico.

I worked on Monday. Very early on Tuesday I drove to Leipzig to see our last game. I spent some hours with Matthew and Anita and we went to the team's Hotel. After that, we spent some hours in the beautiful centre of Leipzig. Late in the afternoon, I put on my Aussie fan clothes and went to a fans' meeting point. Mark had also arrived, just back from Denmark.

We met some friends from the internet, and together we walked to Leipzig's grand new Central Stadium to watch Australia v Tunisia
The atmosphere in Leipzig was brilliant, the town supported Australia, without a doubt.

Funny thing was, not many people in East Germany speak English, and when we sang "Aussie, Aussie, Aussie" on the streets, the people thought it means "Ossi Ossi Ossi" (for East German people) and they start to chant back: "Wessi Wessi Wessi" meaning West Germany!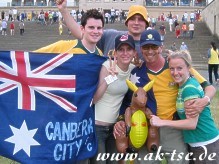 Most of the 25,000 people were cheering for the Socceroos, but, we played poorly, badly, - it was crap football. They had no idea what to do, no system or tactic, it was a real shocker, and we lost.
It was a bad show for fans who paid thousands of dollars to come and support their team.
Heavy rain had begun to fall and I thought the sky was also crying when it saw the game. We went back to the hotel under our Australian flag, wet to the skin.

Together with some fans in a pub, I also had to say good-bye to my friends Matt and Anita.

In the early morning I drove back to Hanover. Mark went on a tour of East Germany. The Confed Cup was not over yet, but the Australian adventure had concluded.
Normal life and work had me back. The following Saturday Mark returned to Hanover, and in the Beer Garden we had plenty of football stuff to talk about. On Sunday we went to our last live game in the new Hanover stadium, the thriller Mexico v Argentina. The Argies won after penalty shootout.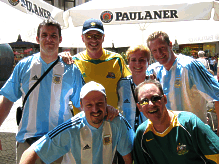 For the last few days, the Beer Garden was our home, with good drinks and food, and Mark helped me at my work. I had the feeling he was working for the first time in his life! He also saw some good places around my home. But by the next Tuesday, it was time to say goodbye to my friend from far
away. To say farewell is never easy, but what can you do?

It's good to have friends, it doesn't matter who they are and where they are from. My big hope is to see them all back in Germany in 2006 for the World Cup. But who knows?

Thanks to many people who make a lot of things possible: Matthew Hall, Anita Bulan,
Mark Bowman, Andreas Kramer and the camera team of the ARD, Volker Stahl,
Ronny Ertel the hero of Burma 1969, Stuart Hodge, Gary Moretti, all the football writers,
and a special thankyou to my wonderful wife Sabine, who makes a lot of things possible and shows incredible patience with me and my passion for Australia.

< close Window
Copyright (c) 2006, The Southern Cross, all rights reserved