Shocking News from Germany
Kruger is out of the
World Cup´ !!!!!!!!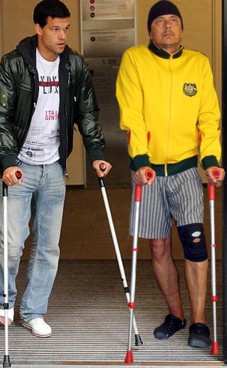 "It's very disappointing, but I have to accept it," ...it's the bloody knee. It was a close decision, to wait for another 4-5 weeks, but the Doc said we have to do it.. ....now!! He hates football, I heard later.
Krueger is at the moment on a fishing
tour with his mates Becky, Balla, Drogi .....
Lothar Matthaus was in the German media as the new Melbourne Heart coach for a while. Good for the Hearts, it was a fake. Now, in his typical style, Loddar is angry. "Australia has no chance to reach the second round of the World Cup," he said
"He's carved himself a reputation here which will make him one of the most appreciated Australians ever to play in
this country." Roy Hodgson, Fulham manager about our goalkeeper Mark Schwarzer.

Australia vs. Germany 43,000 – 40,000 .........................on ticket sales
Green and Gold army invasion in South Africa. Australian fans have bought more than 40,000 tickets to the football World Cup in South Africa, the fourth highest number of sales from any other nation. Only the host nation, the United States and Britain selling more.

Kruger met Michael Beauchamp in Dubai. He played for Al-Jazira in the United Arab.


After the suicide of Hanover 96 and Germanys keeper Robert Enke, the club wanted to sign Eugen-Josip Galekovic. But it was to difficult to make the deal perfect, told us Manager Schmatke.
Mitchell Langerak was signed by Borussia Dortmund

Germany vs. Australia in Durban. Durban? It's not the first time for the Socceroos. Australia played three times in sunny Durban. In 2005 AUS vs. South Africa 1-1
Chipperfield scored at the ABSA Stadium, formerly Kings Park named after a sponsor. 1996 Kings Park, close to new Moses Mabhida Stadium, vs. Ghana during the Simba Cup 2-0, with great
guys like Mori, Tobin, Ivanovic and Trimboli.....
1950 vs. SA, we lost 2:3 with players like Conquest, Drummond and Bunny Nunn
at the Sahara Kingsmead Stadium near the beach.
Its a 15 minutes walk and 2 robberies away from the new ground.
Its still there..........

In many Aussie newspapers are still the liar that the late Johnny Warren was the World Cup Captain in 1974.
Again, we
will have now 3 WC Captains, Lucas
Neill, Mark Viduka and Peter Wilson.
Not more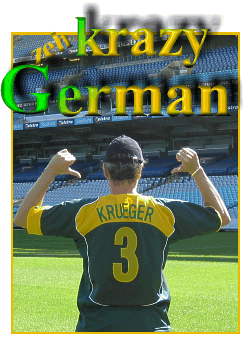 In a last test before the WC, Australia wanted to play vs. Croatia or Russia or Uruguay or Chile, Paraguay and so on. If not, it must be a team from Africa said Pim. But it was New Zealand. The result was close, just 2:1.
That remembers me of Ken Hough, who died last year. He was the only who played in both countries in full internationals, as keeper for the Socceroos vs. NZ, and years later as keeper for NZ vs. AUS.

Now its good to see AUS and NZ together in one World Cup....
On the club century voting in London, May11, funny organization IFFHS voted South Melbourne FC as Oceania's Club of the century. Hellas Boss Athanasakis and Club legends Jim Armstrong and Paul Trimboli where the special guests.
Kruger bought the official silk pennant from the 1977 qualifying match South Korea vs. Australia back .
It left Australia many years ago, was a long time in the collection of an old national coach. On very mystery ways, it's now in the Hanover museum.